Afternoon, folks! I'm a little late getting this post up and going today, but better late than never, right? I only got a little work done on the laundry room this weekend. The Hub wasn't feeling well and couldn't help me get the cabinet painting finished - they're really high and I can't reach the top so I'll have to have his help. I did get the doors painted and ready to be put up though. I'm so impatient too when a project is this close to completion - it PAINS me to have to wait!
Anyways...I got one of the signs made that I plan to use. The big one didn't work out, so it's back to the drawing board on that one, but this little cutie was easy peasy:
I just printed the graphic out onto some pretty scrapbook paper and placed it in this picture frame that I got for 10 cents at our local Rescue Mission. Man, I love that place! The frame was already the exact distressed/pickled finish that I wanted, so it literally took me about 30 seconds to put this together once I got it sized to fit. See? Easy Peasy! Now, for your viewing pleasure, I am providing the graphic so you can have one to look at of your very own! Ain't I sweet? Awww, stop it!
LAUNDRY
Drop Your Drawers Here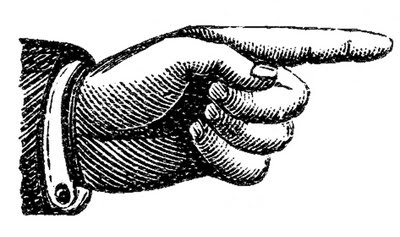 My source for the hand was
The Graphics Fairy
. They have a great selection of all kinds of vintage graphics and clip art, all for free. F to the R to the E-E people!! So this little sign is adorable in my new laundry room. And did I mention - I actually enjoyed doing laundry in there this weekend? It's so nice to have a place to sort and fold. Whatever makes doing laundry a more tolerable task works for me! How about you - are you a laundry junkie or a laundry avoid-er?
Toodles,